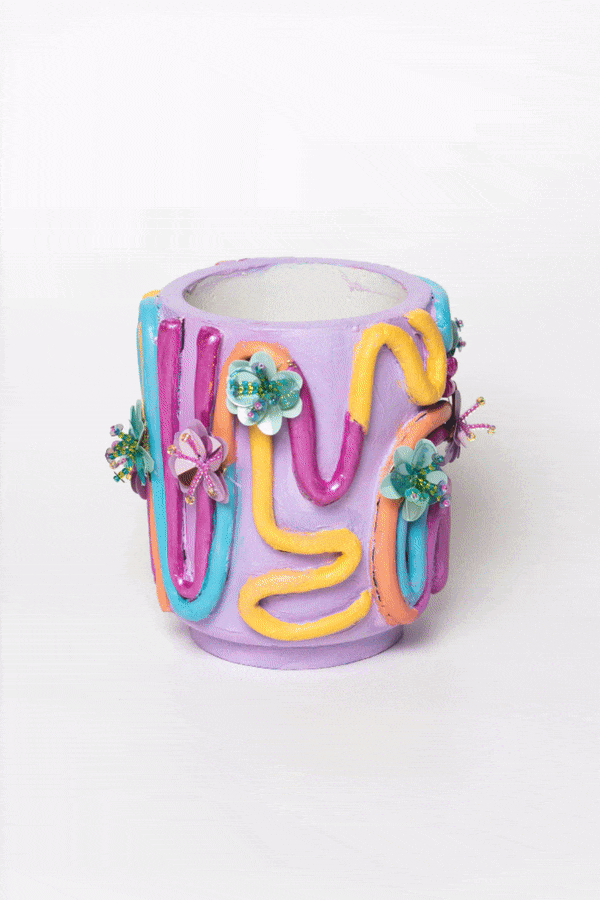 Twist & Turns
" Growing up during my tween years and inspired by funky colours of girly pop culture, Twist & Turns is about navigating life as a preteen that tries to balance between nurtured principles of family values, especially from parents and grandparents, and newfound discovery of friendships with peers from school that tend to be influential too.
It is a journey of self-discovery of not only a balancing act but also towards becoming yourself - one of a kind. "
Collapsible content
Unveiling the Ultimate Intersection of Art and Scent

Welcome to the most exciting part of our Artist Series Launch Event—the Silent Bidding of 5 Artist's One-of-a-Kind Pieces!

Picture this: we've taken our exquisite concrete vessels, filled them with 350g of beeswax candles and our signature Artist Series scents, and handed them over to the incredible minds at ArtFaculty. The result? Unique, extraordinary, and absolutely irreplicable candle vessels, each brimming with individual twists of creativity and innovation.

These aren't just candles; they're limited-edition works of art—the only one of their kind in the entire world.
Candle Scent Notes

White Tea, Black Tea, Mango & Coconut Milk
Rules and Disclaimer

The silent bidding will conclude on the 1st October. So ponder, decide, and make your best bid for these one-of-a-kind pieces!
The highest bidder will receive our celebratory email by the 5th October. So keep a close watch on your email; it might carry the best news you've heard in a while!

By participating in this silent auction, you agree to abide by the rules as set forth by ANBO. All bids placed are final and binding. The highest bid received for each item within the bidding period will be deemed the winner. In the event of a dispute, ANBO reserves the right to make the final determination of the winning bidder. No refunds or exchanges will be given, except in the case where the item being auctioned is no longer available.
CHECK OUT OUR ARTIST SERIES CANDLES