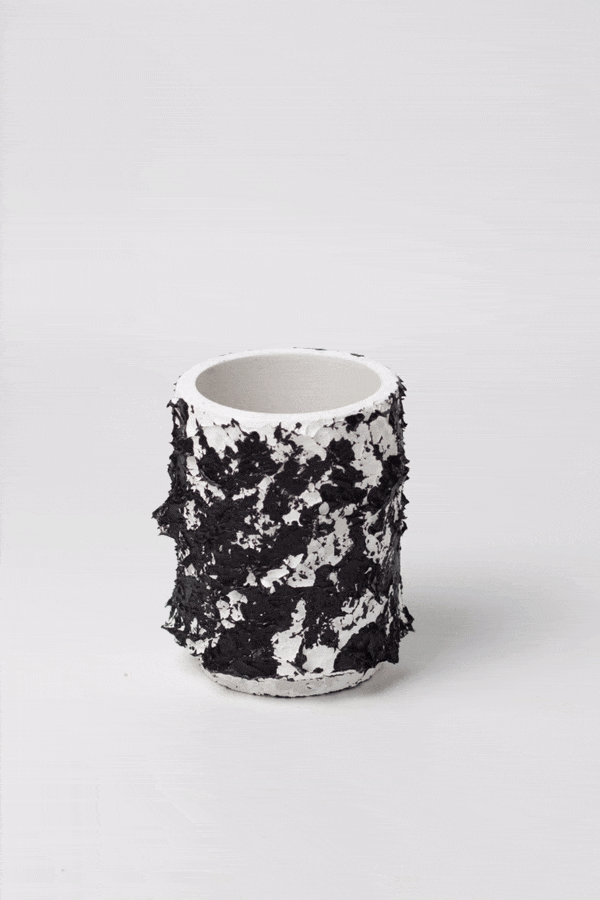 Senses
For this limited edition collection with ANBO, the abstract mark-makings and textures are my interpretation of the keywords: Bold, Edgy and Fresh. These keywords are chosen closely together with ANBO to reflect my identity and personality which in turn will be present in the scent of the candle.
Collapsible content
Unveiling the Ultimate Intersection of Art and Scent

Welcome to the most exciting part of our Artist Series Launch Event—the Silent Bidding of 5 Artist's One-of-a-Kind Pieces!

Picture this: we've taken our exquisite concrete vessels, filled them with 350g of beeswax candles and our signature Artist Series scents, and handed them over to the incredible minds at ArtFaculty. The result? Unique, extraordinary, and absolutely irreplicable candle vessels, each brimming with individual twists of creativity and innovation.

These aren't just candles; they're limited-edition works of art—the only one of their kind in the entire world.
Candle Scent Notes

Bergamot, Coriander, Clary Sage, Muguet And Cedarwood
Rules and Disclaimer

The silent bidding will conclude on the 1st October. So ponder, decide, and make your best bid for these one-of-a-kind pieces!
The highest bidder will receive our celebratory email by the 5th October. So keep a close watch on your email; it might carry the best news you've heard in a while!

By participating in this silent auction, you agree to abide by the rules as set forth by ANBO. All bids placed are final and binding. The highest bid received for each item within the bidding period will be deemed the winner. In the event of a dispute, ANBO reserves the right to make the final determination of the winning bidder. No refunds or exchanges will be given, except in the case where the item being auctioned is no longer available.
CHECK OUT OUR ARTIST SERIES CANDLES